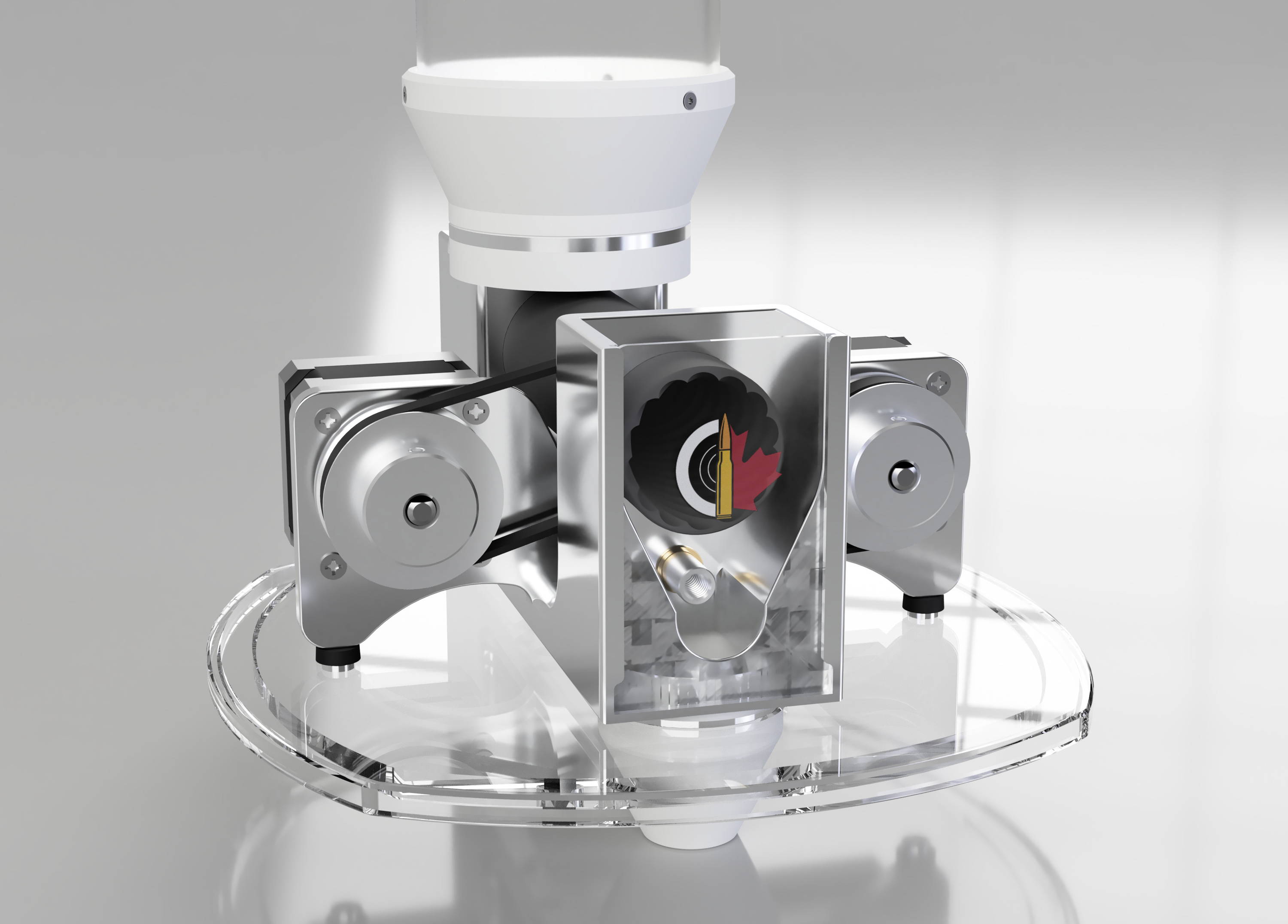 Images rendered from current CAD model. All specifics are subject to change.
Scheduling update (April 8, 2021)
Reservations for V4 have been coming in even faster than anticipated! Based on our current plans for production capacity and reservation numbers we are assuming the following rough delivery schedule (Eastern time):
June / July: Limited beta testing group
August: Pre-existing orders and recent V3 recipients
September: Reservations March 12 between 12:55 pm and 1:35 pm
October: Reservations March 12 between 1:35 pm and 5:40 pm
November: Reservations between March 12 at 5:40 pm and March 15
December: Reservations between March 15 and April 1
January 2022: Reservations after April 1
These are estimates. Do not rely on this schedule. It may change.
We are receiving a lot of questions every day about V4 production. We appreciate your patience. We are growing the business quickly and working closely with our machine shop to double production rates with new equipment and staff. When V4 is in full swing we will finally be able to reduce lead times and keep up with demand in the long term. It will take time but we will get there.
AutoTrickler V3 is our current model and will continue to be produced through August. At some point we will switch over production completely to V4. Once V3 is not available, the lead time for a new order will be over 6 months.
If you wish to measure powder charges to the kernel this year, order V3. Both versions are excellent solutions to load powder charges quickly and accurately. If you choose to wait for V4, you might be waiting for a long time.
The current lead time for V3 AutoTrickler with AutoThrow ($490) is 10 weeks. The lead time for V3 AutoTrickler without AutoThrow is 1-2 weeks ($270). If you can scoop the bulk charge yourself, this is an excellent option for the short term since it's equally fast.
March 13, 2021 marks the five year anniversary of the original AutoTrickler!
Since V1 in 2016, the AutoTrickler has grown to become the standard solution for long range shooters looking to measure accurate powder charges quickly. While the core concept of integrating a stepper motor with a lab quality balance has never changed, we have iterated through V2 and V3 with the addition of the AutoThrow in 2017 and refreshed designs of most parts in 2019.
The design goal with V3 was to optimize the design of separate AutoTrickler and AutoThrow components, while ensuring compatibility and upgradability with existing first and third party parts. This constrained the design and resulted in an assembly with many parts and production steps. The lead time has grown from 6 to now 10-12 weeks as orders continue to roll in faster and faster.
AutoTrickler V4 is a clean slate. The entire mechanical assembly is now a single, simpler, and more compact unit, with integrated electronics and a calibration routine that removes the need for trial and error when switching powders.
This new design will cut production time in half and improve reliability across the board. Incorporating new ideas into a simpler mechanical assembly is a better long term strategy to keep up with future demand without raising the price or restructuring the business in ways that would sacrifice quality for quantity.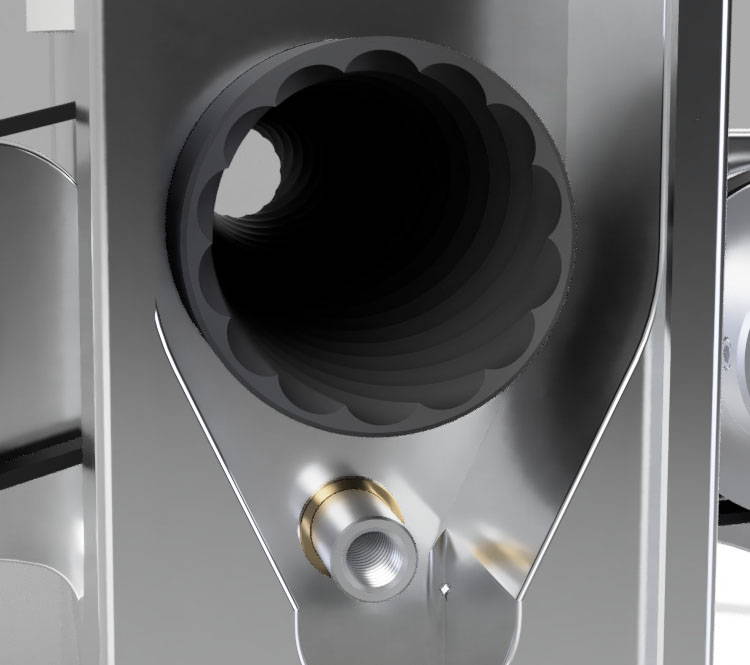 Two tubes, two motors, one process.
Inspired by an auger (and refined through simulation, testing, and iteration), a large tube with deep spiral grooves pours a large amount of powder in a controlled manner, allowing flow rates up to 50 grains per second, and ramping down smoothly to within 1 grain of the target. A smaller tube then completes the charge within a kernel in roughly the same overall time as V3.
Both tubes are driven directly by toothed timing belts which will not wear out.
Optimal performance without manual adjustments.
After adding powder, an automated calibration process will measure the flow rate of both tubes. These measurements will be used to set optimal ramping functions for both the bulk and final dispensing steps.

The AutoTrickler will rest on an acrylic panel with three rubber feet, using the funnel and a rear locating pin for positioning. A tilt adjustment within the rear foot will be pre-set to match the bubble level of the A&D scale, so it should not need to be changed.
A slow / normal / fast setting within the Bluetooth app will allow a choice between speed and precision based on your needs. Adjustability through the app will allow performance to improve through software revisions in the future.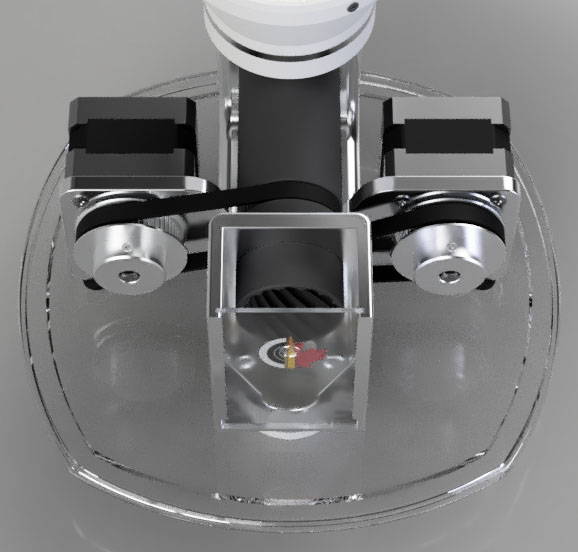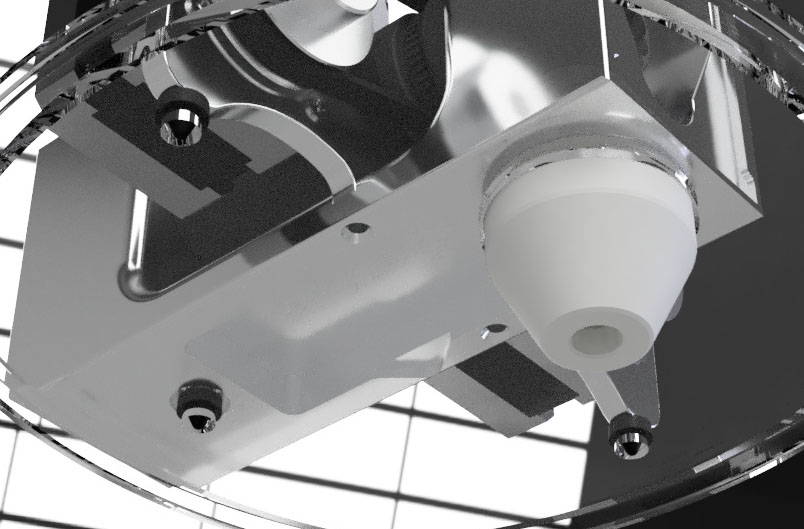 Integrated electronics and cabling.
The electronics module fits into a cavity on the underside of the housing. Motor wires are routed through the housing so they will never have any reason to move or break. The electronics can be replaced if necessary.
The connection to the A&D FX-120i scale is through a single cable that plugs into the RS232 port on the back of the scale. It also disconnects using an inline 4-pin connector, allowing the serial cable to be replaced independently from the electronics.
Locking hopper valve and rear window.
The hopper incorporates a rotating arm that opens and closes its valve. While the valve is open, the hopper is positively locked into the housing, and a clear window which seals the reservoir cannot be lifted, preventing a spill.
To clean out powder, first close the valve, remove the hopper, then lift the window and powder will pour out of the spout. Any remaining powder will be obviously visible and can be cleared out by running the motors, pouring, blowing, or brushing smooth and easily accessible areas.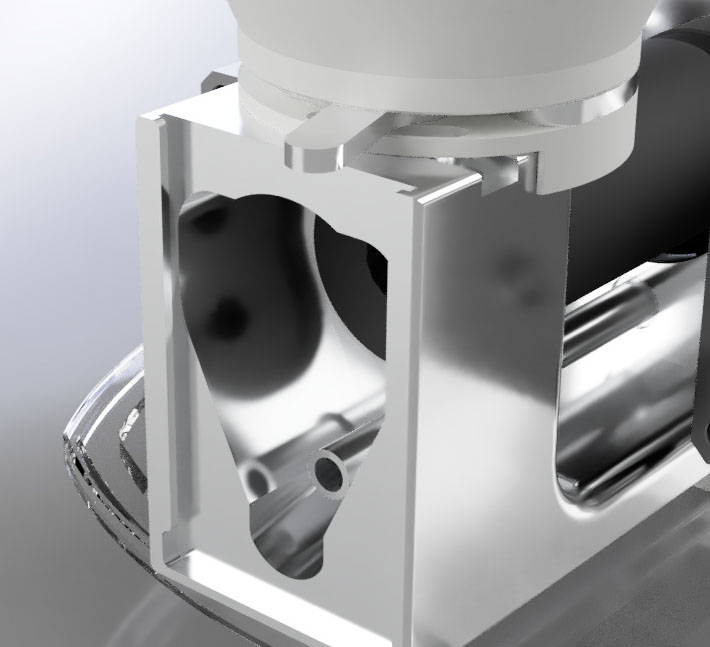 Sounds great, how can I get one?

AutoTrickler V4 is not ready for production. We have prototype components, the concepts are proven, and we're pretty sure it will happen, but it doesn't exist right now.

AutoTrickler V3 is real, it works, and we are making them constantly. It does the same thing - measure powder charges to the kernel in 10 to 15 seconds. V3 will continue production as normal and nothing is changing on that front.

We're not going to rush. AutoTrickler V4 includes many new design elements and from experience we have learned it's better to have more time to prepare before trying to build hundreds of something at once. When we are ready to start making V4 in quantity it will be a relatively stable design with validated machining processes and an inventory of materials on the shelf. Summer is the current expectation however it might take longer to bring everything together.
If you would like to be on the list, please fill out this reservation form. This is not an order, but the date and time of completing this form will be used to assign priority to orders. We do not require any payment in advance.
We are limiting one unit per person in order to avoid a third party reselling for a higher price. Please only fill out the form once, and ask your friends to fill it out once for themselves.

1. Express your interest by completing the reservation form
2. We will email you when you can place an order on the website

3. Pre-production units are sent to early adopters for testing and feedback
4. We will send out a schedule with rough estimate ship dates for all orders
5. Production begins!
The price will be the same as V3 ($490 US).
If you have any questions, please email adamjmac@autotrickler.com.
Please read the section below which best applies to your circumstance:
If you have an order pending for AutoTrickler V3:
You have a choice. You can wait for V4, or you can continue with your order for V3.
If you choose to wait, you will have priority based on your original order date, so you will be among the first in line for V4. However, you'll be without an AutoTrickler for at least a few more months.
If you continue with your order as it stands, it will probably ship sooner than originally expected as the backlog shrinks, and you'll have an excellent powder measurement system to use this year.
You can have it sooner, or you can have a newer version later. Or both. It's up to you.
Your priority date for V4 is already set to your V3 order date, so there's no rush to make a decision immediately (unless your V3 is scheduled to ship soon). Just send us an email to explain what you are thinking and we'll help.
If you already have an AutoTrickler:
A month ago, the status of a new version was "there is probably something coming in the future," which applies all the time. V4 is being announced the moment we have confidence it will happen, in order to give as much notice as possible, and it's still quite far away.
V4 is really about a streamlined assembly that is faster to produce. It's going to be easier to use, and there are technical improvements to be sure, but once you have it set up properly, any AutoTrickler will measure powder charges quickly and accurately, no matter what version it is. V3 is more modular and having manual adjustments or the ability to operate without the Bluetooth app could be seen as an advantage to some.
There is no low cost upgrade option with V4, since none of the parts are transferable from V3 to V4. You really don't need V4 if you are happy with your AutoTrickler today, and I wouldn't suggest that the incremental differences are worth $490 unless one of the new features really appeals to you.
If you would like to order V4, we will have a priority category for anyone who received a new AutoTrickler within 2021. These are mid-October orders that were shipped on December 24, 2020 or later.

Please assume that there will be changes to V4, on an ongoing basis, after release. The AutoTrickler is an evolving system that changes often. The earlier you order, the sooner you have a solution to your problem. If you already have a solution you are happy with, incremental improvements are not necessarily worth the cost.
If you do not have an AutoTrickler or a pending order:
By the time you are reading this, the lead time for V3 is probably short, the lead time for V4 is probably very long, and we are in a transition period.
Both versions achieve the same outcome.
V4 is not about fixing problems with V3. It is a new version of an already great system that many thousands of people are more than happy with. If you are currently using anything else to measure powder, and you need to reload over the next 6 months, V3 is a good choice.
Thank you for your continued support over the last 5 years!
- Adam & Laura MacDonald