As of August 2021, AutoTrickler V4 production has started. New orders today without a prior reservation will likely ship early 2022. A schedule is posted on the AutoTrickler V4 product page.
AutoTrickler V3 base model is available now while supplies last. Estimated to ship within 2 weeks of order. Use another powder measure or scoop to place a partial charge a few grains light into the cup, and then the AutoTrickler will finish within 0.02 GN in about 10 seconds. This is just as fast and accurate as V4.
We are no longer building the AutoThrow which is the optional add-on for V3 that dumps the partial charge automatically. The base model is in stock and we expect to run out in a couple of months. At that time V4 will be the only option.
If you have no pre-existing reservation and you'd like an AutoTrickler soon, order V3 for $270. The scale is compatible and you can consider upgrading to V4 next year. Both versions do the same thing in different ways. No matter which version you have, the AutoTrickler will greatly improve your reloading process.
The scale is sold separately. You can order the AutoTrickler from us, or you can order with scale as a complete package from one of our distributors. If you are interested in ordering through a distributor please read the information below.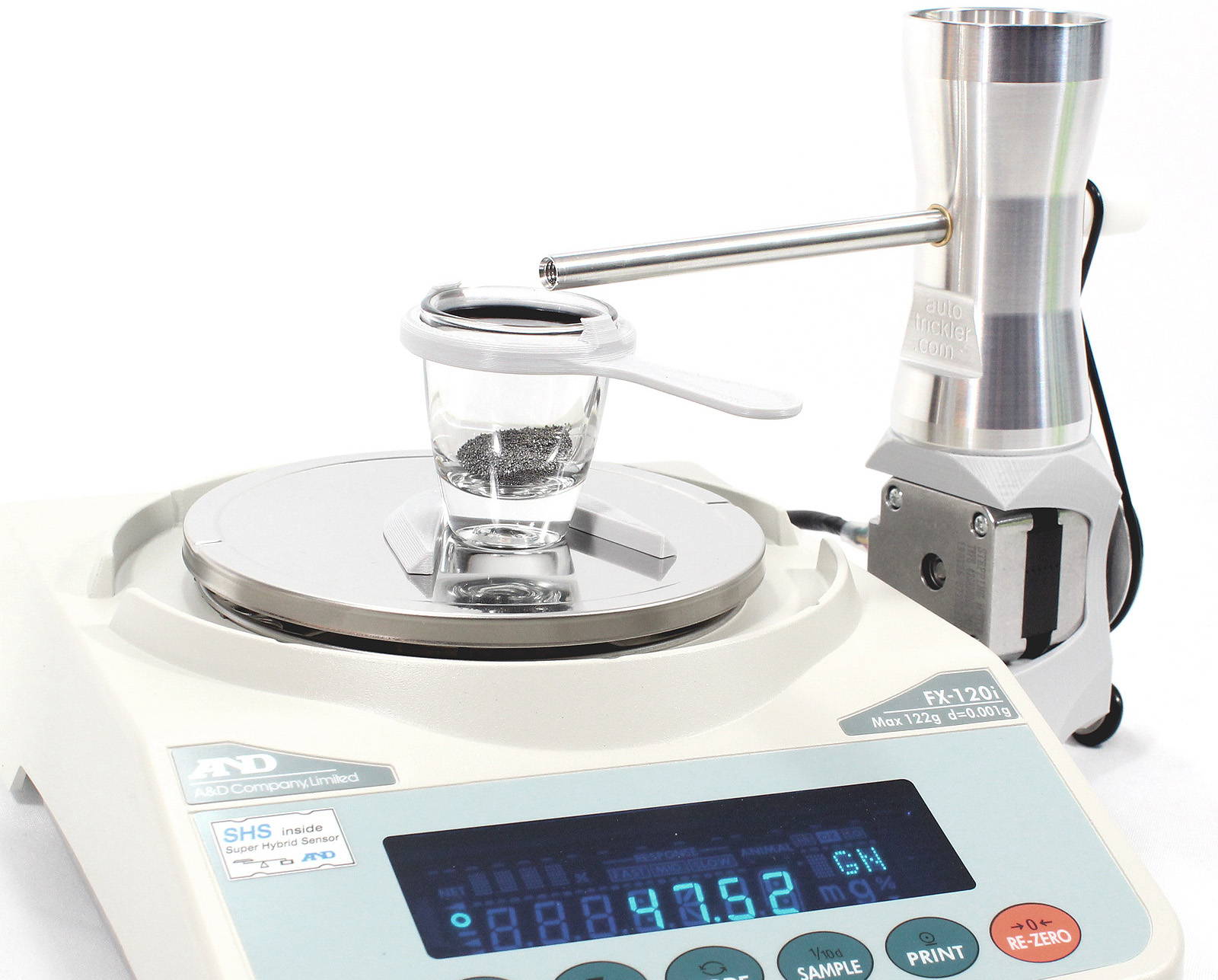 Scoop your partial charge manually

Adjustable speed and accuracy
Control using your phone with Bluetooth

+/- 0.02 GN in 10-15 seconds

Compatible with A&D FX or FZ 120i, 200i, 300i, 500i
Works with all known rifle and pistol powders
In stock now while supplies last

$270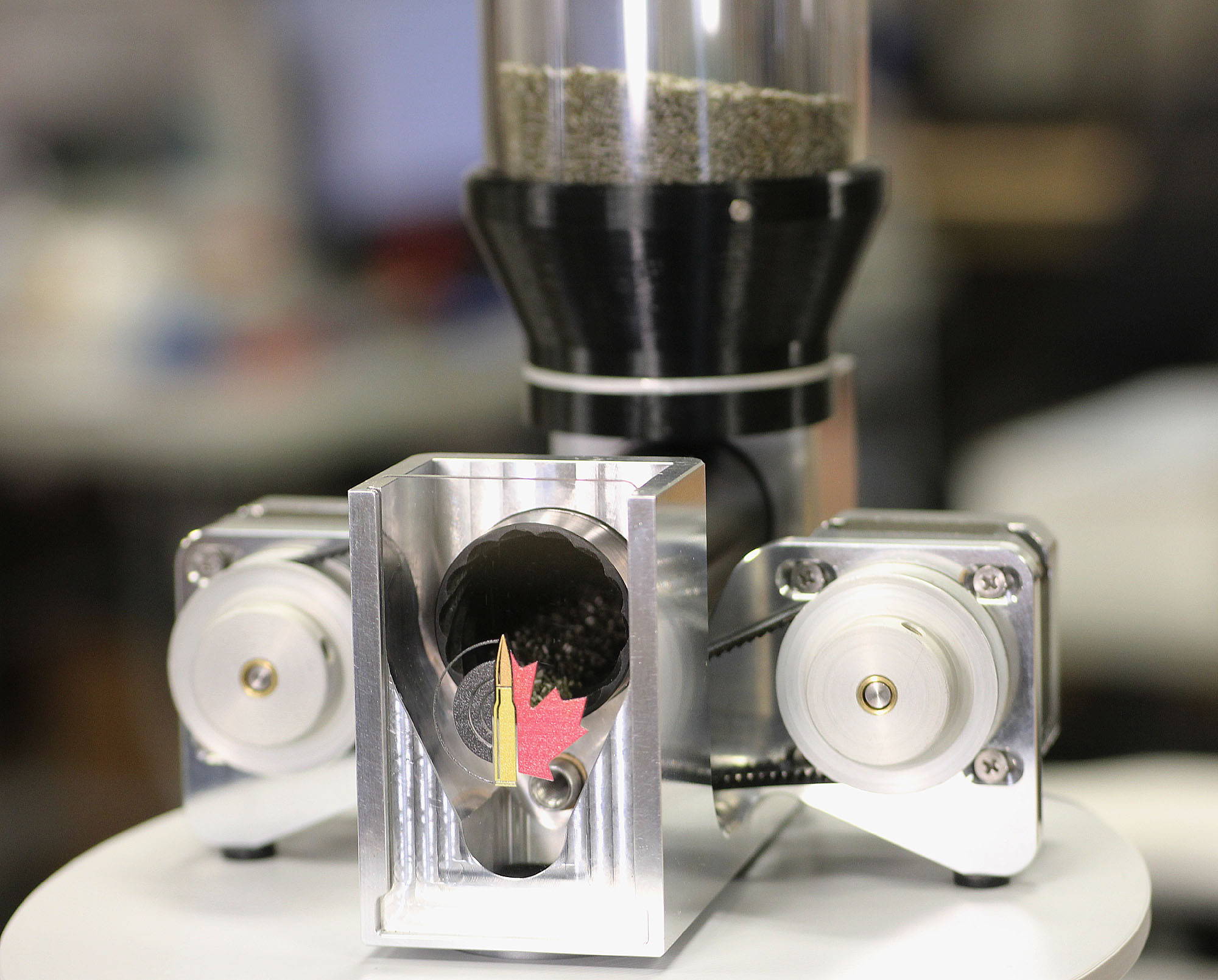 Completes charge from start to finish
Automatic calibration and tuning
Control using your phone with Bluetooth

+/- 0.02 GN in 10-15 seconds

Compatible with A&D FX or FZ 120i, 200i, 300i, 500i

Works with all known rifle and pistol powders

Available Sept '21 to est. March '22 (reservation date)
$490
Ordering from our Authorized Dealers
We ship direct worldwide, however we also work under agreement with a number of third party dealers to provide an option for you to purchase the
AutoTrickler packaged with the A&D FX-120i scale locally.
You have the choice and you can trust that the AutoTrickler will be boxed by us and delivered unmodified and unopened. The product you receive is exactly the same and your decision should be based on the convenience, price, and availability.
We are not accepting new dealers at this time. Other than direct from us, t
he companies below are the only ones who will have a supply of V4 available over the next few months at least until our pre-existing reservations are fulfilled.
We have a special arrangement with CE Products to ensure prices and lead times are consistent whether you order from CE with the scale, or directly from us without a scale. Our order lists are shared and your order with CE has exactly the same priority as an order with us.
All other dealers' stock, price, and wait list policies may vary so please contact them directly for information. Many of our dealers will have limited quantities of V4 available in 2021.

If you have a reservation for V4 and you would prefer your unit to ship through a local dealer, contact us. You can place an order with them and we will ship your AutoTrickler to them according to your reservation date.
Warranty support extends to the original purchaser only for 2 years when ordering either from us or from one of the authorized dealers in this list. Please contact us directly for any technical questions, warranty concerns, replacement parts or accessories. We handle support. Our priority is to ensure a consistent and positive experience for all.